Coronavirus Update April 6th 2020
Parents and Carers
We have joint provision and can offer emergency childcare between New Road Primary School and Copley Primary School. Should you need to access a place, please contact on the details below. Please note this is only available for those children meeting the government's criteria.
Whilst we are committed to providing this care for vulnerable children and those of critical workers, there may be circumstances when we are unable to do so. Should that occur, we will work with the Local Authority to ensure that alternative provision is available. The Local Authority can be contacted on 01422 394101 or at school.effectiveness@calderdale.gov.uk.
Please note that safeguarding remains our key priority and it is important that you share any concerns or worries about children's wellbeing with us. Please contact the school using the details below with any concerns.
During this difficult time, Free School Meals provision for those children eligible for benefits-related Free School Meals will be (details). Please contact (name, role, contact details) if you need any help in accessing Free School Meals. Further information about support available can be found on the Calderdale website at https://www.calderdale.gov.uk/v2/coronavirus/advice-and-updates where there is also the facility to request support.
We are aware that some of you are critical workers and are relying on a skeleton support network within your family. Over the next few days or weeks, that support structure may collapse and leave you in need of support. If you find yourself in this situation please contact me on head@copley.calderdale.sch.uk and I will arrange a good time to ring you and we can talk through what we can do to support. Alternatively we now have a temporary mobile number for you to contact the Headteacher on 07395182368.
We are thinking of you all and are very much looking forward to the time when we can be fully open and return to normal service. Please stay at home, stay safe and keep watching our website for updates, advice and the ongoing support for children's learning at home.
TALK HOMEWORK
This week (16/03/2020) our talk homework is:
"Which artist (musician, artist, dancer, writer, actor) are you most inspired by?"
We will be discussing this topic in assembly next Monday (16/03/2020)
WORLD BOOK DAY
Everybody had a great day dressed as their favourite book characters. Have a look in our gallery to see the photos.
MOLLIE IN WORLDWIDE TOP THREE!

Mollie (year 5) has been placed third in an international competition run by the coding company Hopscotch. She began using the coding platform (available for free on the Apple App Store) with Mr Pilkington in his Computing lessons at the beginning of November and quickly proved to be a real whizz, creating a maze game, Crossy Road and two independent apps that dressed characters she had created.
It was Mollie's Build A Snowman game that got her placed third in the international Christmas competition. See below for a link to Mollie's game...and who knows, we may be buying future games Mollie creates in the App Stores!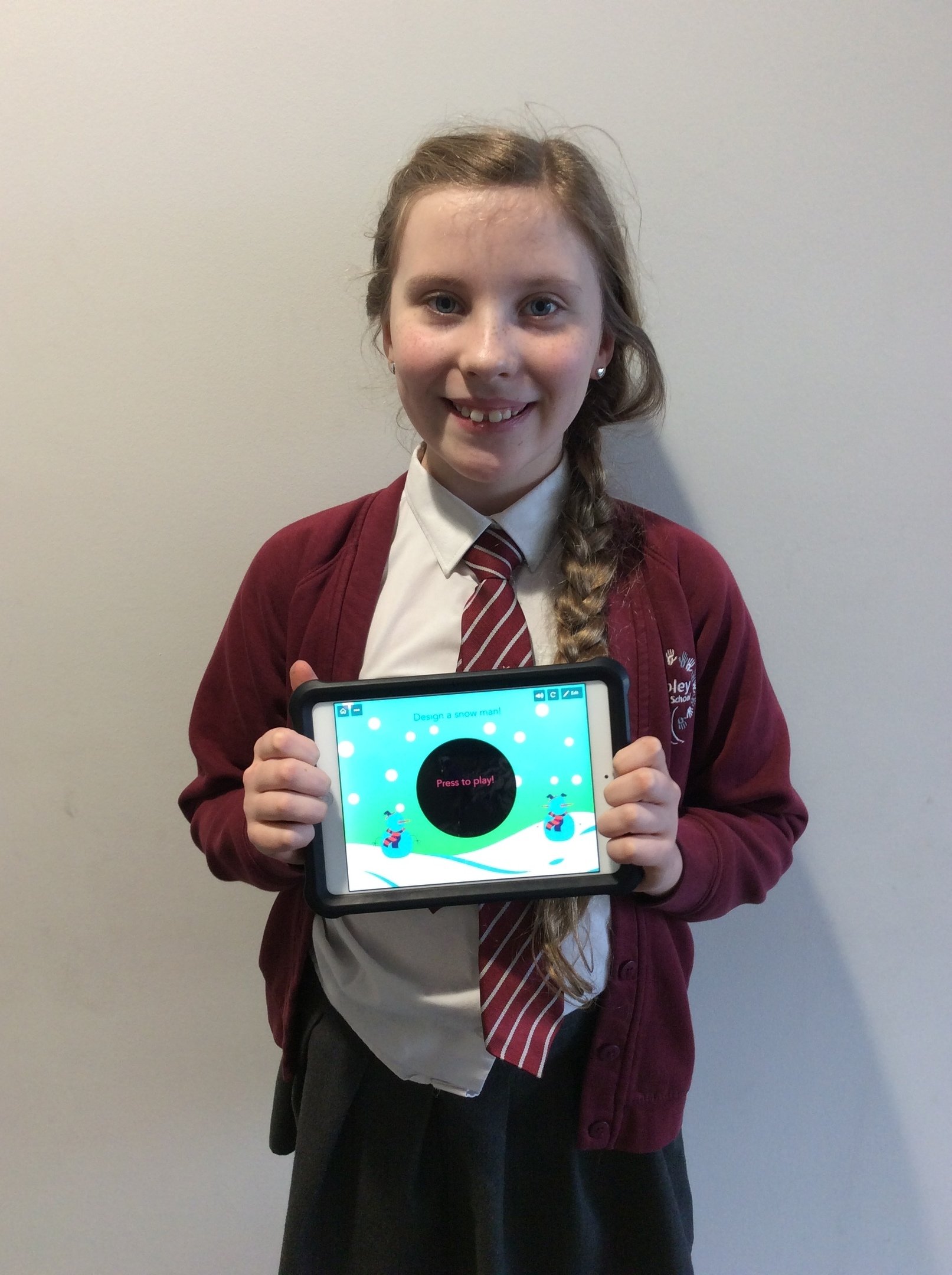 Copley Before & After School Club
Have you heard about the new before and after school club?
We are open from 7.00 am - 9.00 am and 3.30 pm - 6.00 pm every school day
Please contact the office for more information.
Click on our page in the News section above to see the fun we have been having.
Before School 7.00-9.00 £5
After School 3.30-6.00 £8.50
Holiday Club £28 per day
LOST PROPERTY
Our lost property is now overflowing! Have you lost any uniform? Could we please politely ask you to name all parts of your child's uniform.
Curriculum 2019-2020
The curriculum for each class and year group can be found in our class pages on the tab above in the News section
If you have any queries please contact Mrs Borland or Mrs Hendy, our Administrators, at:
| | |
| --- | --- |
| Telephone: | 01422354209 |
| Email: | clerical@copley.calderdale.sch.uk |
| Address: | Wakefield Road,Halifax, HX3 0TP |
Or contact our headteacher, Mrs Oldfield head@copley.calderdale.sch.uk
If you need any information or support from our SENCO (Mrs Potter) you can contact her via the school office.
ALLERGIES IN SCHOOL
Just a reminder that we are a nut free school as we have pupils with allergies. We would ask you to be mindful of this when sending any food into school.